Gardens are beautiful whether natural or manmade. They look even more beautiful with the added aesthetics around them. Decking is one of the features that though not natural looks great. It's not that easy to swap and change once have got it fixed. So you must get the right material and shade that you shall adore for years to come. Decking is available in a variety of materials, colours, and styles. From boards that look and feel like real wood to contemporary mortar and brick colours, your options are really endless. So, choosing the right decking features and colours for your garden? There are a few different options you can go for that shall help make the decision easier.
Dedicated Area
As it's mostly a one-time task, create a dedicated outdoor area for your garden area by laying a decking beyond the retracting doors. The outlook provides a space to sit outside, making it an extension of the extra living room space. Mount the compact decking area with simple yet considerate planted borders, that separate the decking and the structure from the remaining garden. Whether you are buying the decking boards for the first time or you already have them and need refurbishing or colouring, you can save by applying the best promo codes. As this is a onetime hectic job that you undertake, it is necessary to save on this as it could cost you a good fortune.
Weatherproof Decking
Decking plus rain can equal danger, an anti-slip decking stain is a right idea here. Making a sail canopy will ensure to keep the rain off your wood. You can create a huge pergola to avoid rain, dust, and other conditions.
Colour group
Most decking shades can be found in a variety of colours categorized into a larger colour group. Wood-like shades are usually browns while more present-day colours include greys and whites. The Colour categories might contain several different shades, finishes, and variations, but choosing one or two of these broader categories will give you a starting point for your deck design.
Material to use
When choosing the material, whether brick, mortar, thermally modified wood, timber, lumber, or wood; it is all up to you but the right way would be to choose a colour that will look great in your garden. Pick a shade that matches or complements the colour of your home scheme in general.
If your home landscape is natural textured or coloured, you may want to match that by choosing something with a more natural wood appearance. A bold choice would suit a modern home exhibiting white and black colours. Either way, you can surely experience satisfaction in creating a coherent space in both looks and feel.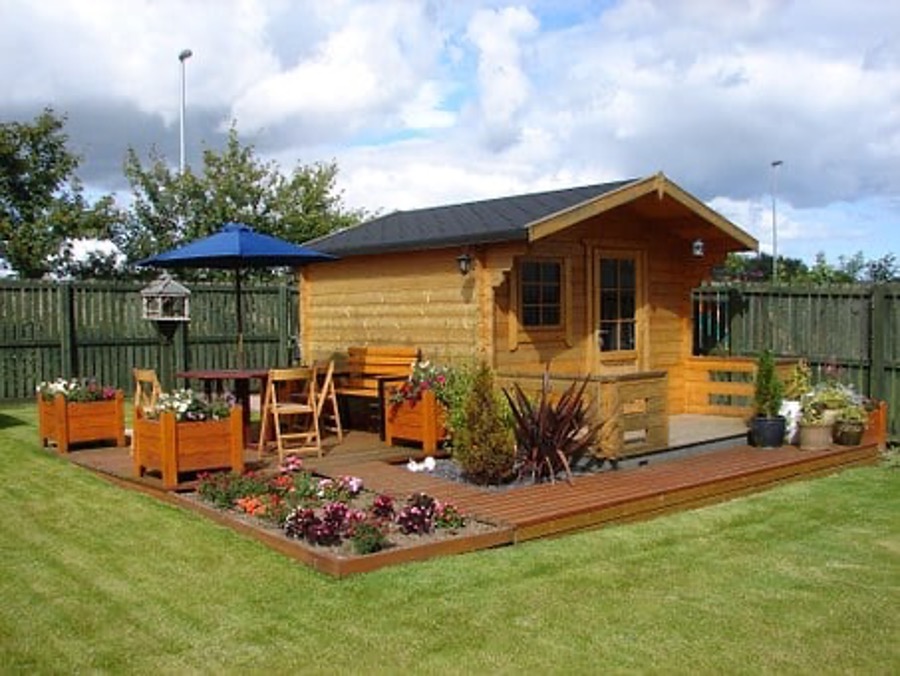 Simple Tone
If you understand the colour scheming, you will note that undertones play an important part in determining how one colour will look against the other. Colours with similar undertones complement each other perfectly. Stone Decks, the natural wood or the lumber, no of options are open.
Cream, yellow, brown, and red undertones commonly found in brown decking are warm and therefore complement other warm colours. Green, Blue or purple undertones lend themselves to cool colours. Go for the Grey decking as it will create a neutral look, made with a balance of warm and cool undertones.
Mix and Match Work
You can go with different decking and shades as well if it is hard for you to decide and secondly sometimes a combination can give wonderful results.
The Picture-frame is one of the most striking ideas as far as decking is concerned. In this, the center of the deck is made using one shade, but the perimeter of the deck is given a completely different shade. Such a combination will save you the hassle of going for one and will make your new deck more of a focal point in your garden.
The calmer hues of grey classic light Grey, Classic Silver Timber, and Dark Grey go well for winter shades. For summer brown is the best but you can use the colour wheeler selection.
Temperature
Coolest option is Ipe, Cedar decking is a close second as it maintains a temperature that is a few degrees cooler than Redwood.
Final Word: Composite Decking
Yes, you can go for plastic decking which may cost you lollipops. Though variations exist with regards to the right Decking features and colours, composite decking seems to be the best option. It is a mix of wood scraps; called wood flour, and plastic particles. Some manufacturers rely on virgin wood and plastics, others make extensive use of recycled materials working on the green environment concept. Composite and PVC decking is a popular choice as they're almost maintenance-free. These types are extremely weather-resistant, easy to clean, and do not splinter, warp, cup, or rot. The colour pigments are dispersed throughout the board itself in the composite deck, so no varnish or stain can fade away. Coated with a polymer sleeve to give further protection to the colour and surface. This guarantees the colour decking and shall survive all tuft times.