2021 didn't start with big parties and fireworks. In fact, many of us simply enjoyed watching an impressively acrobatic drone display in London from the comfort of our own homes. There were no shirts, no dresses, and no choruses of Auld Lang Syne, just cosy hoodies, pyjamas, and living room dancing.
Following the New Year's celebration at home, many people found that their working lives returned to the familiar kitchen table desk that they had experienced during earlier lockdowns.
As 2021 continued, people gradually returned to the office and their workplaces — some were even keen to return to work. But if there's one thing that we learned from the work-from-home revolution, it's that working should be more comfortable.
As people set their New Year's resolutions to be more active and achieve their life goals, perhaps we should promise to make ourselves more comfortable in our jobs and find joy in the work we do.
Here, we explore the benefits of comfortable workwear clothing and why the dress-down-Friday routine should last every day of 2022.
What we can learn from working from home (WFH)
Before the pandemic, 32 per cent of people either worked from home or did some work at home. Preferences indicate that when the pandemic ends more people want the opportunities for remote working to continue. 20 per cent of people would like to work from home all the time while 37 per cent want to work from home some of the time.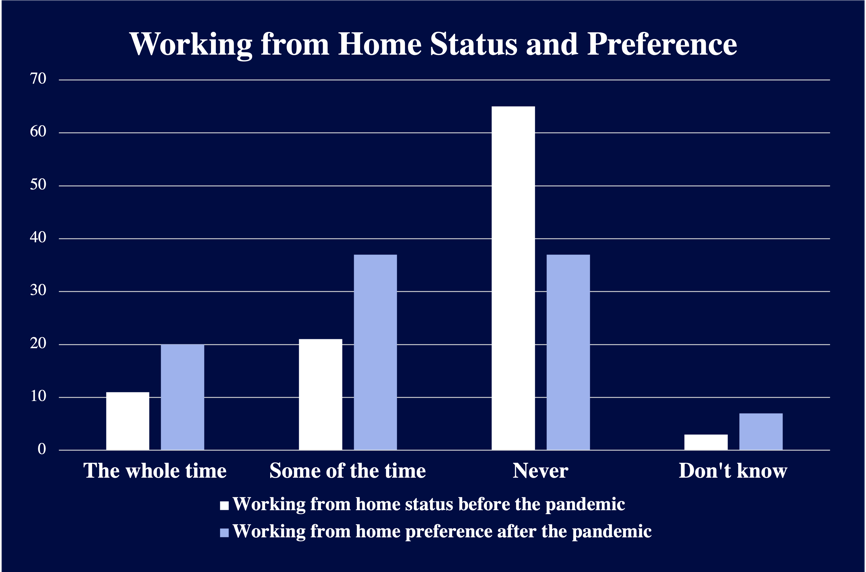 According to the Office for National Statistics (ONS), 21 per cent of people work from home because of preference. In simple terms: workers like doing it. But what does WFH give to people that normal working facilities cannot accommodate?
Working from home allows workers to avoid commuting, saves money, and provides a more comfortable working experience. However, working from home can also cause drops in productivity. One study found that those who work from home are 30 per cent less productive than those who don't work from home.
In effect, a combination of office working with the creature comforts of remote working is key to doing great work while enjoying a relaxed atmosphere. The answer for providing this casual environment in the office may be found in what we wear to work.
The demand for comfortable workwear
UK Google searches for 'Hoodie for work' hit an all-time high in 2021 with 2,754 average monthly searches. That's up 19 per cent from 2020 and up 42 per cent on its five-year average. If 2020 was the year of WFH, then 2021 has been the year of comfortable working in the office. With a new taste for comfortable work, more people are switching to comfy clothes for their nine-to-five.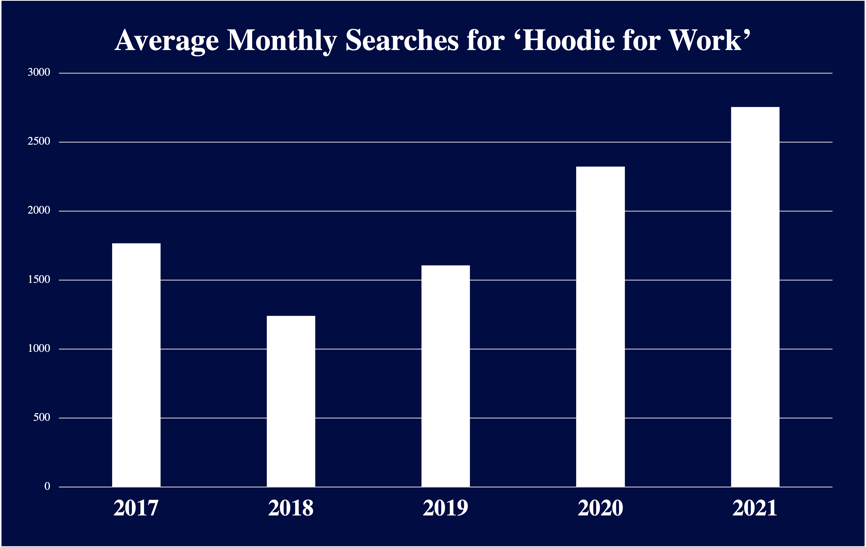 But are there more benefits to comfy clothing than comfort? Simply put: yes. Comfortable clothes, such as activewear and garments made from cotton, are breathable and transmit moisture away from the body. By removing moisture, your skin gets more oxygen to breathe. If your skin gets more oxygen, it stays healthier for longer.
Ultimately, comfier clothing means you can slow skin ageing and you're also less likely to experience body acne or dryness.
New year, new clothes
The new year is the perfect time to make the switch. When making your New Year's resolution, we're always told to focus on our wellness and what we want to achieve. It doesn't take a gym membership to meet our goals. Something as simple as wearing a hoodie and comfortable trousers for work can make a big difference.
Not only do we work better in comfortable clothing, but we also feel better. In the new year, whether you're working from home or in the office, affording yourself a bit of comfort in your work attire can go a long way.
Sources
https://yougov.co.uk/topics/economy/articles-reports/2021/04/13/one-five-want-work-home-full-time-after-pandemic
https://www.ons.gov.uk/releases/coronavirusandthesocialimpactsongreatbritain23july2021
https://onlinelibrary.wiley.com/doi/full/10.1111/ntwe.12153
https://www.livestrong.com/article/59826-advantages-cotton-clothing/