Windows operating system has evolved a lot in the past few years however there is no robust process to clean junk files and remove clutter from Windows. There are a few manual utilities that can help you execute a few cleaning processes and detox your PC. The best way to remove junk files is the use of the Best PC Cleaning software.
Automated methods using a PC cleaner can periodically scan and remove clutter from your PC. There are dozens of PC optimization and clean-up software that makes it difficult to choose the best. We have tested, compared, and reviewed the best cleaning apps and selected the one that works best on all versions of Windows. Let's explore a few manual methods first!
Manual Methods for PC Cleaning
There are several Microsoft inbuilt utilities that can help us to find and remove clutter from the PC. A few of them are listed here!
Disk Cleanup Utility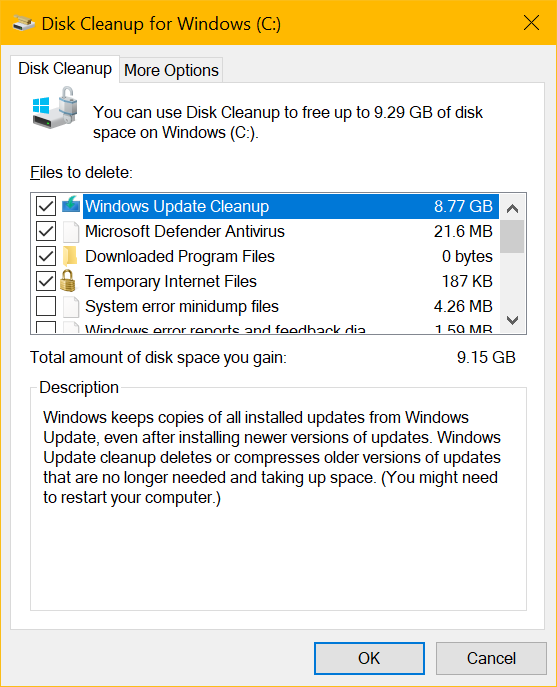 Disk Cleanup Utility is one of the best utilities that can clean up clutter from various parts of your computer. You can select the C: Drive or other drive partition to perform a scan. It can scan and list out all the Downloaded programs, Temporary Internet Files, DirectX Cache, Recycle bin, Temp Files, Thumbnails, Delivery optimization files, Windows Update Cleanup, Microsoft Defender Antivirus updates, System Errors and other log files.
Disk Defragmentation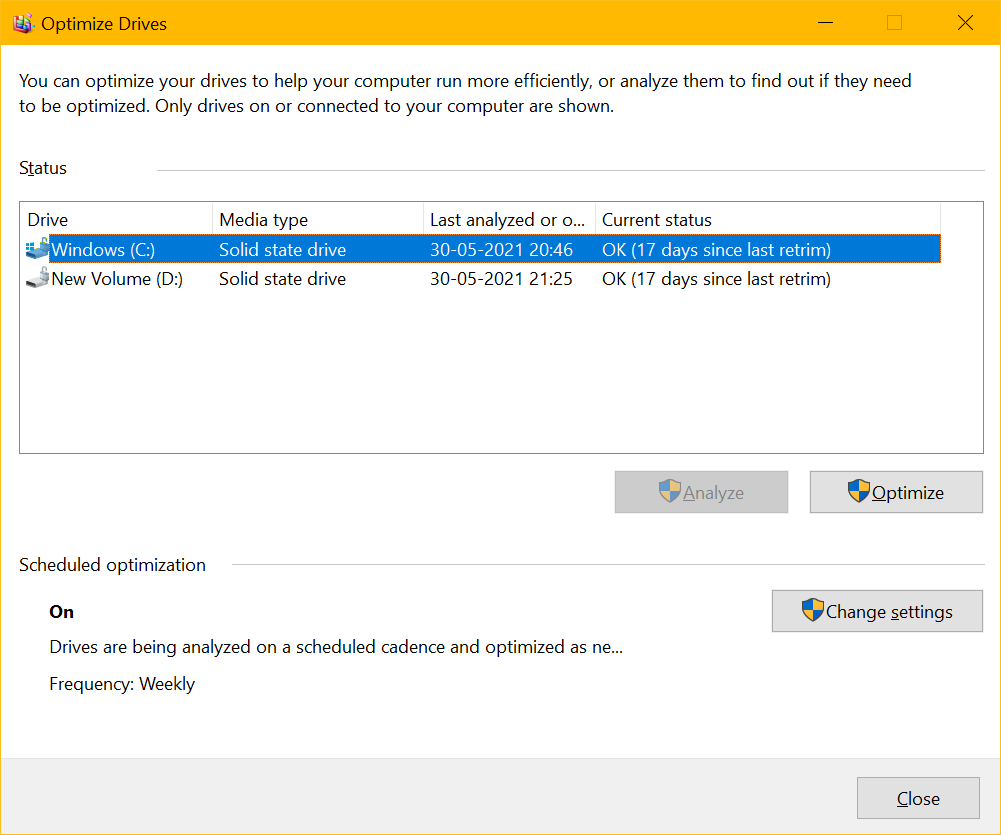 Disk Defragmentation is a process to defragment of the fragmented and disturbed sectors on the hard drive. Multiple creations and deletion of files on the hard drive creates free space that needs to be arranged for new files. Disk defragmentation enhances disk speed, removes clutter, and regains access to hard drive space.
Registry Optimization
Registry cleaning and optimization takes up a lot of time and effort and one wrong step can cause a lot of trouble. It is recommended that you clean up and optimize the registry using the best registry cleaning software.
App Cleaning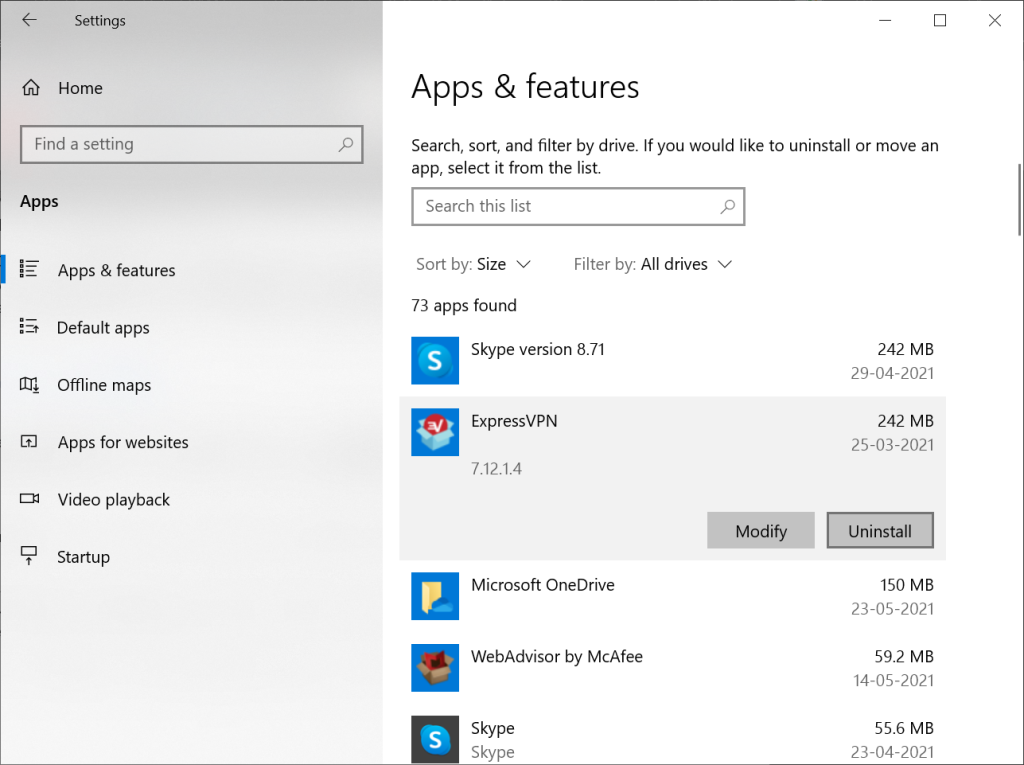 We can go to Programs and Features in the Control Panel and uninstall unwanted applications however the app residual files and leftover clutter can't be cleaned with the manual process. Only the best PC Cleaning software can find and remove all the associated files and declutter your PC.
Browser Cleaning
As we browse through a lot of websites, we accumulate a lot of cookies, cache, temp files and other browsing histories. We can clean this up from the browser settings however this is a regular exercise. We can automate this process with the help of a PC cleaner.
Best PC Cleaning Software
There are tons of PC Cleaning software available on the web. We have tested, compared, reviewed dozens of them and listed the top solution for Windows PC Cleaner.
Advanced System Optimizer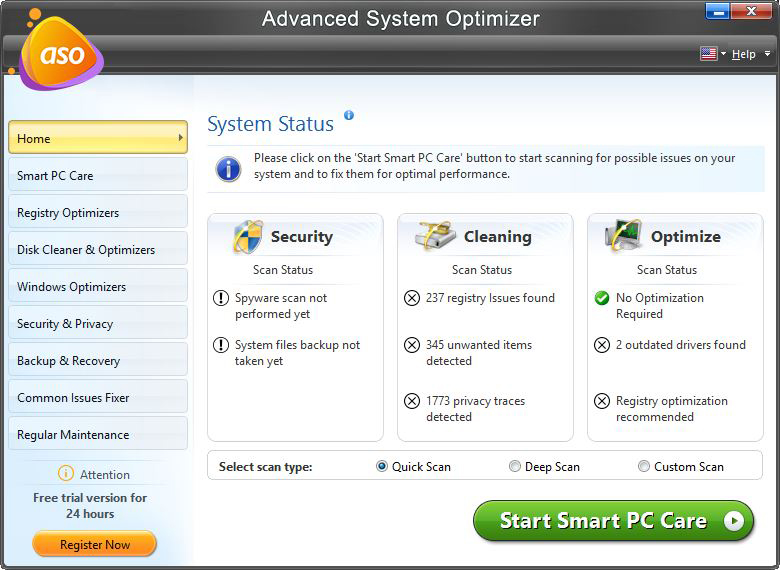 Advanced System Optimizer is one of the best PC Cleaning Software with inbuilt optimization utilities to offer a complete solution. It offers system cleaning & optimization, Secure Deletion, Encryption, System Files Backup & Restore and a lot of other services. It is compatible with Windows 10/8.1/8/7/Vista and XP (both 32-bit and 64-bit) versions.
Disk Cleaning & Optimization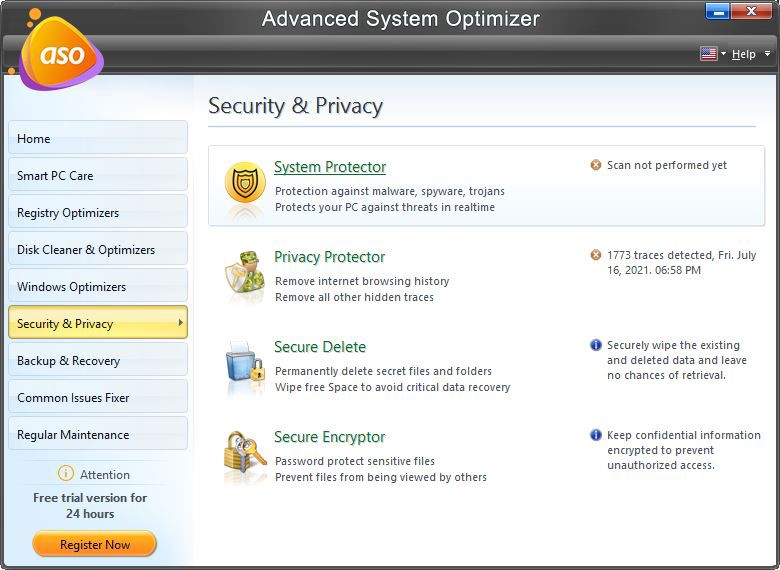 Regular disk cleaning removes unwanted clutter, junk files, from your computer. The inbuilt disk optimizer feature can speed up the hard drive by cleaning and defragmenting the disk. It can prevent unexpected system crashes and disk start-up issues.
System Security & Privacy
The privacy protector feature clears your browsing history, cookies, and your internet activity to keep it private for you. You can use the shredder to secure delete your confidential files so that nobody can recover them. The security encryptor can securely encrypt all your confidential files with military-grade encryption technology.
Game Optimizer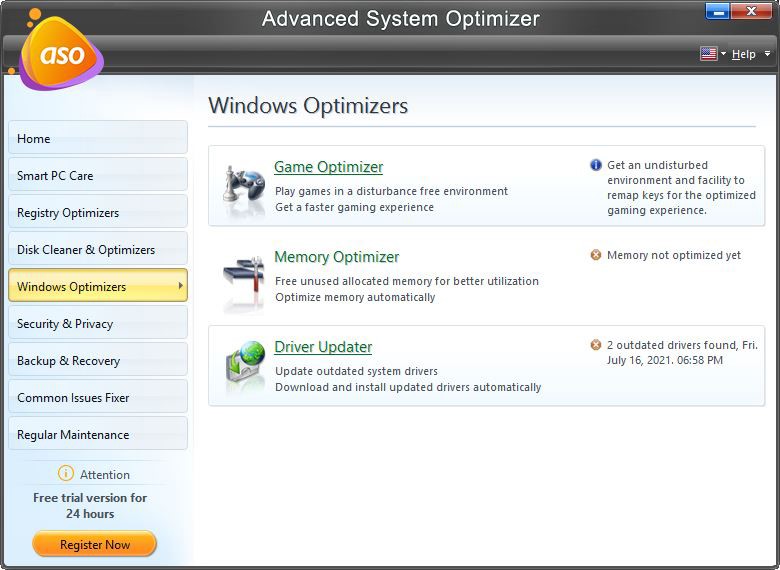 The Game Optimizer feature allows you to get into the Sandbox mode to enjoy gaming without any interruption. You can enjoy an uninterrupted gaming experience with a better-optimized PC. The Memory optimization feature cleans PC clutter and boost RAM to enhance performance. The overall Windows optimization club all the basic clean-up of junk files, cookies, cache, temp files, and more.
Backup & Recovery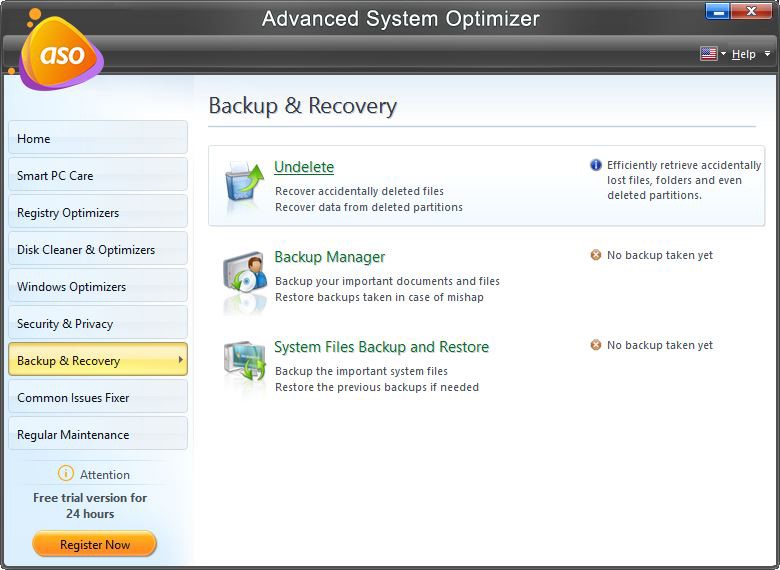 This PC Cleaning software has a unique feature to perform Backup & Recovery of your important files, documents, videos, music and other selected folders. If you ever lose any of your important files, you can perform a recovery to retrieve permanently lost data. It also takes a backup of system files to recover the system from a no boot situation.
Summing Up
Advanced System Optimizer is a one-stop solution for all your PC cleaning and optimization needs. It's easy to remove junk files, temp files and other clutter at a timely interval. It is one of the best resources for disk optimization and RAM clean up. Advanced System Optimizer can perform easy Backup and Recovery options to safeguard your important data. This PC Cleaning Software can automatically remove junk files and declutter your system in no time. Keep it Clean!